Cruise In Comfort
We welcome guests with special needs and disabilities. We happily offer accessible staterooms and all reasonable assistance to make your voyage truly hassle-free and most of all, memorable.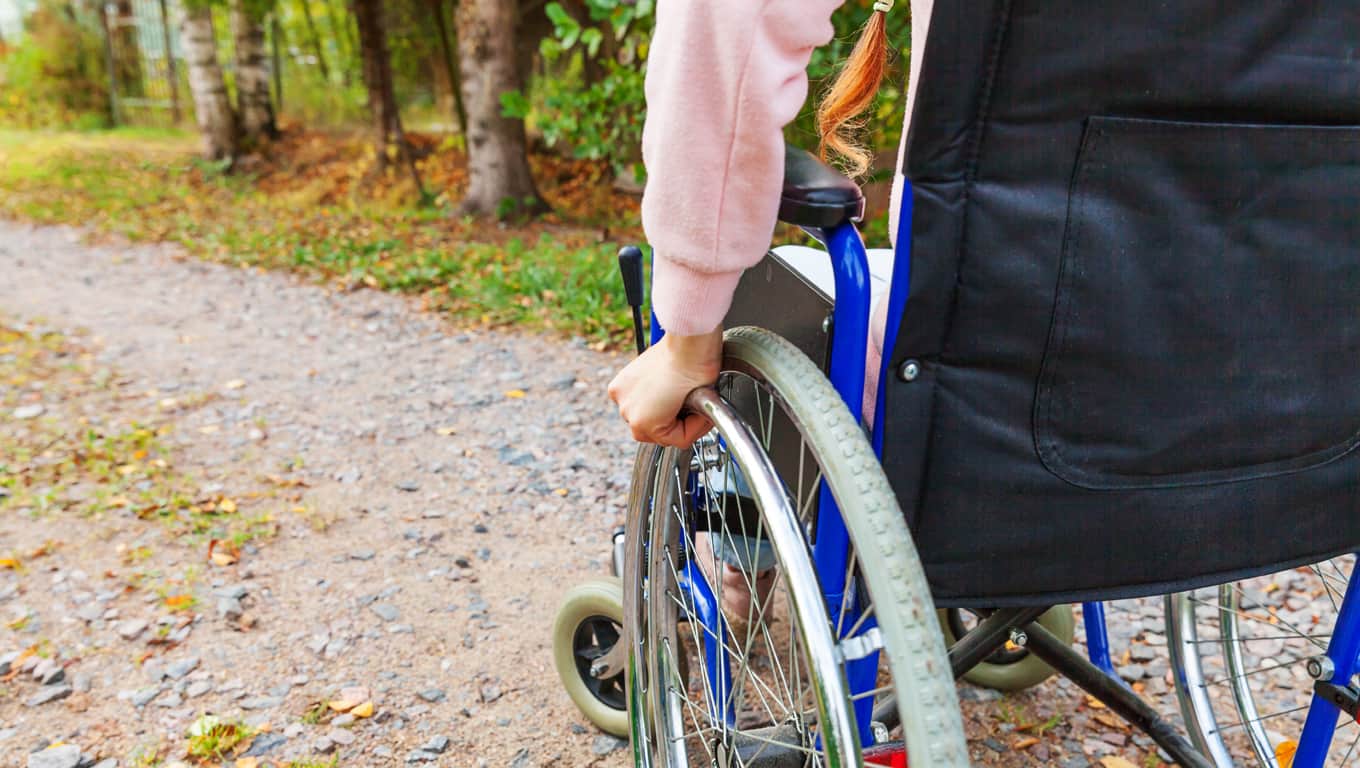 Mobility Disabilities
Mobility Disabilities
For getting on and off our ships, we're happy to provide complimentary wheelchair assistance. For your time onboard, you're welcome to bring your own scooter, wheelchair, or other mobility device from home, or rent one to be delivered to your stateroom from the following companies. Due to safety reasons, Segways may not be used onboard.
CareVacations
Special Needs At Sea
To keep doorways, corridors, and lobbies clear for all guests, assistive devices including mobility scooters must be stored and charged in your stateroom. When parked throughout the ship, we ask that you park your device out of the way to allow safe and easy access for other guests and crew members.

Assistive devices should fit through a standard stateroom entry doorway which is at least 23 inches wide. We offer accessible staterooms with doorways at least 32 inches wide to accommodate larger devices. If you have an assistive device larger than 32 inches wide, please contact our Access Department for assistance.

Note: Crew members are not permitted to lift assistive devices.

Services Provided:
Early boarding.
Boarding and departure assistance.
Cruise transfers utilizing a specialized bus or van with a lift or ramp.
Scooter access.
Accessible blackjack tables in the casino.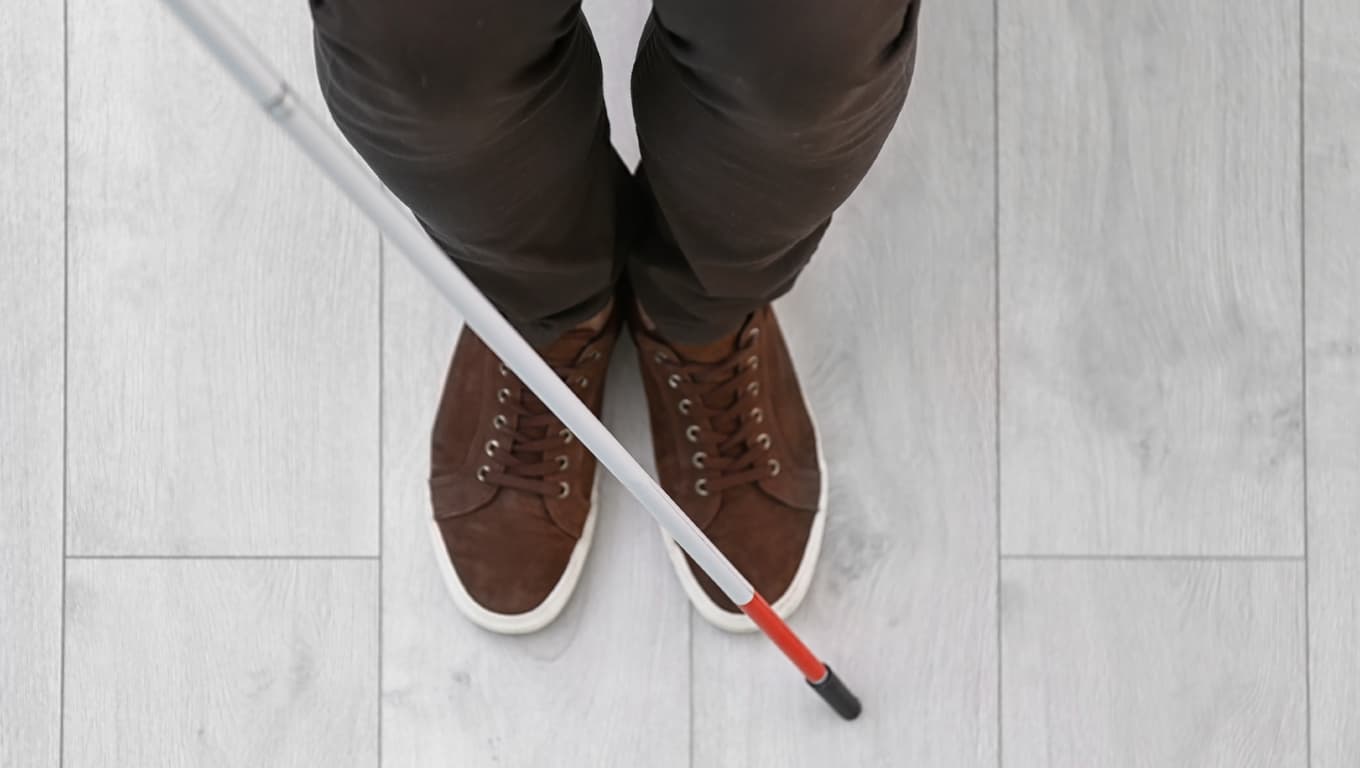 Visual Disabilities
Visual Disabilities
Azamara® has made the voyage experience as effortless as possible for our guests with visual disabilities. Each of our staterooms, dining areas and public areas are designed to incorporate Braille wherever possible. As always, our crew and staff are on hand to assist in every way.

Services Include:
Service animal relief area: a 4 foot x 4 foot space with cypress mulch.
Early boarding for orientation tours.
To make sure you don't miss a moment, we also provide qualified readers onboard our ships for guests who are blind or have low vision. Select crew members have been trained to read written material such as the daily Pursuits and shore excursions information. Waiters are also happy to read dining menus upon request. To request qualified readers for your cruise, please contact Guest Relations upon boarding.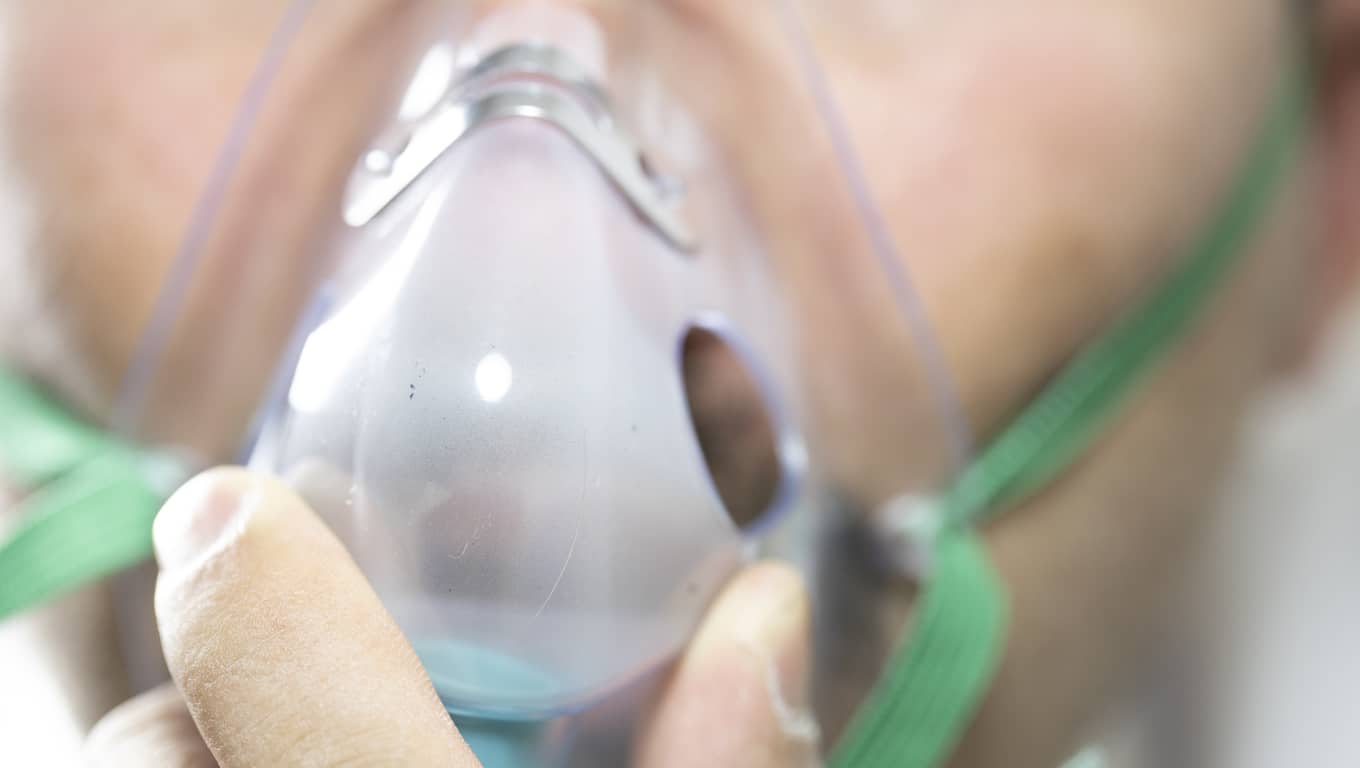 Medical Needs
Medical Needs
We don't want anything to hold you back from having an immersive, unforgettable voyage with us. We've got the onboard staff and services to assist with your medical needs and make your time with us hassle-free. If you have another type of medical condition not listed below, please inquire about policies and procedures that may affect your voyage.

Onboard Physicians: Every Azamara vessel is equipped with a medical facility. At least one licensed physician and one nurse are generally in attendance on all Azamara® voyages. Select medical services and medications are available for a fee, though medication types are limited. While we're here to help with any medical issues that arise, our medical facilities are not intended as clinics for guests, and Azamara is not responsible for the diagnosis, treatment, or services furnished by shipboard medical personnel, who are independent contractors.

Dialysis: Guests requiring continuous ambulatory peritoneal dialysis are welcome onboard all Azamara vessels. However, Azamara does not have the ability to assist or administer hemodialysis treatments. Guests using peritoneal dialysis should have all solutions and equipment needed to perform the dialysis delivered to the vessel on the day of sailing at least two hours prior to departure. Please contact us for more information on dialysis policies and procedures.

Oxygen: All types of oxygen are permitted onboard. Please notify us as to the quantity, type and delivery schedule. Each vessel has a different storage policy; however, you will be able to keep some or all of your cylinders in your stateroom.

Pregnancy: Expectant mothers are welcome, however Azamara cannot accept guests who will have entered their 24th week of pregnancy by the beginning of, or at any time during, the cruise. All guests are required to sign a health questionnaire at check-in to ensure they are aware of our pregnancy policy. If you have already booked a cruise or CruiseTour and do not meet this requirement, please contact your travel agent.

Infants: Infants sailing on a cruise must be at least six months old as of the first day of the cruise and/or CruiseTour. For transatlantic, transpacific, Hawaii, select South America and other selected cruises and/or CruiseTours, the infant must be at least 12 months old as of the first day of the cruise/CruiseTour. Any cruise that has three or more consecutive days at sea will require infants to be 12 months old on the first day of the cruise/CruiseTour.

Please be aware that guests traveling with a young infant that does not meet the infant policy will be denied boarding. No refunds or other compensation shall be due from the cruise line to anyone as a result of the denial of boarding to an underage infant or other accompanying guests.

Note: If you have another type of medical condition that has not been mentioned, please inquire about policies and procedures that may affect your voyage.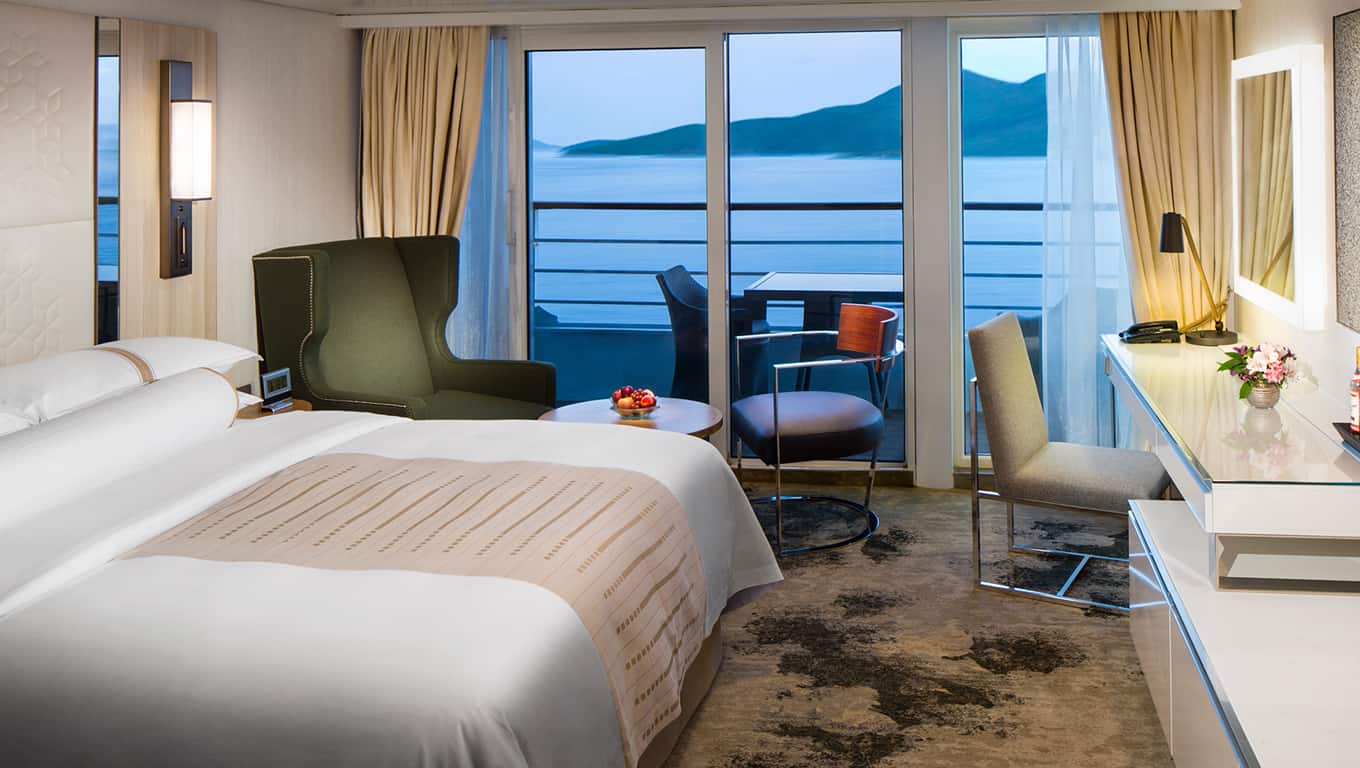 Accessible Staterooms
Accessible Staterooms
An Azamara voyage, first and foremost, is about feeling relaxed and comfortable in your boutique hotel at sea. Our accessible staterooms are specially designed for guests with mobility disabilities and other disabilities, and include features to ensure ease and relaxation.

These staterooms range from 227 square feet to 324 square feet, offering a generous five-foot turning radius in sleeping and sitting areas, and bathrooms for easy maneuverability.

Accessible Stateroom Features:
Stateroom door width: At least 33 inches.
Bathroom door width: At least 34 inches.
No doorsill at stateroom entry.
Ramped bathroom thresholds.
Bathroom grab bars.
Lowered sink and stateroom vanity.
Roll-in showers.
Fold-down shower bench.
Hand-held showerheads.
Lowered closet rod.
Refrigerator in stateroom (upon request).
Adjustable height commode chairs (upon request).
Accessible balconies (selected staterooms).
Accessible staterooms are held for guests with disabilities until all other non-accessible staterooms in that category are reserved.If a guest is booked in an accessible stateroom who does not have a mobility disability or other disability, he or she may be moved at any time to another non-accessible stateroom in order to accommodate a guest requiring accessible features.

Please note we investigate and take action on potential misuse of accessible staterooms where there is good cause to believe that such staterooms have been booked fraudulently.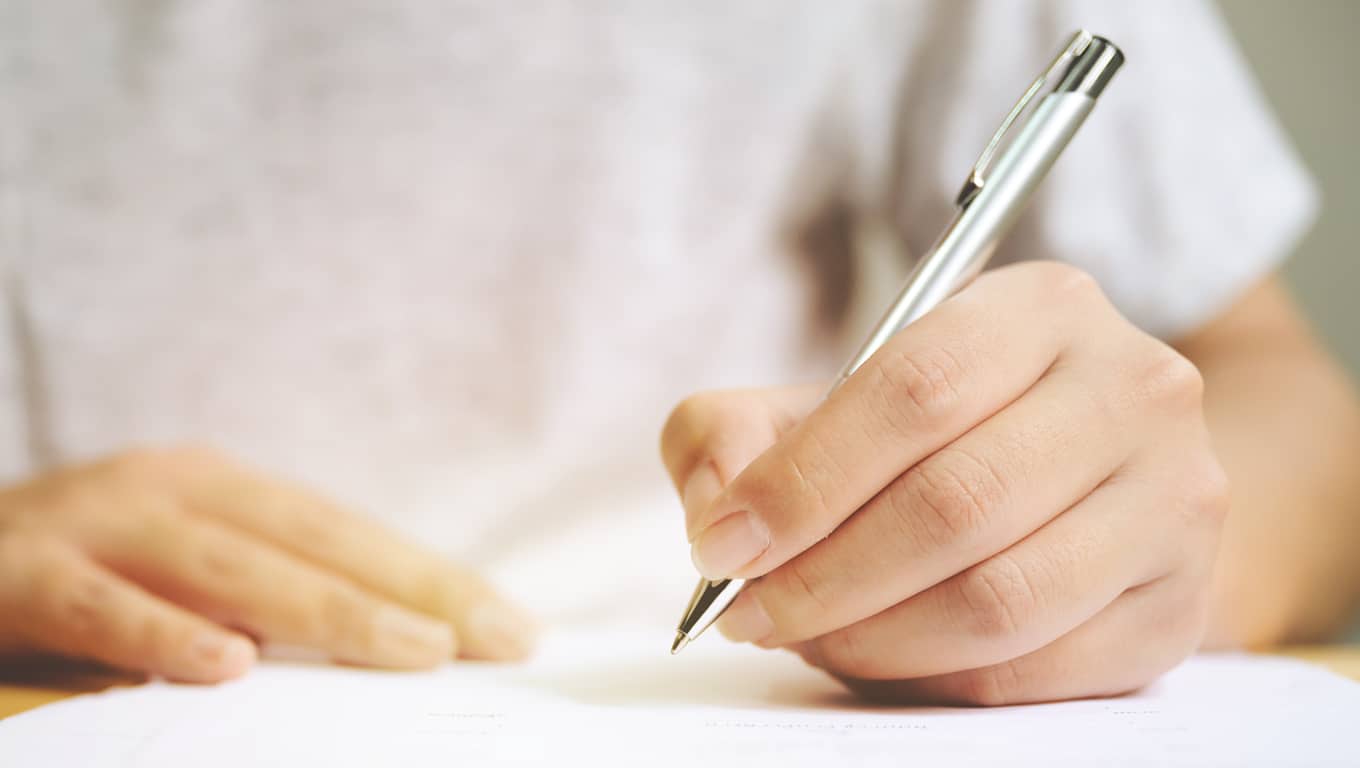 Planning Ahead
Planning Ahead
We won't ask you to disclose specific details about the nature of your disability, but the more information you can share with us upon booking about your specific needs, the better we'll be able to assist you during your time with us.

To guarantee availability, the minimum advance notice for the following equipment and services is required:

Services Requiring Advance Notice 60 Days Prior To Sailing:
Sign language interpreting services.
Equipment And Services Requiring Advance Notice 30 Days Prior To Sailing:
Raised toilet seat
Commode chair
Shower stool
Transfer bench
Service animal relief area
Large print materials
TTY
Visual-tactile alert system
Assistive listening device
Medical refrigerator
Sharp's container
Distilled water
Extension cord
Oxygen supply delivery
Dialysis supply delivery
If we do not receive enough advance notice, we will do our best to accommodate your needs.

You must provide 72 hours advance notice if you are traveling with a group of 10 or more passengers with disabilities.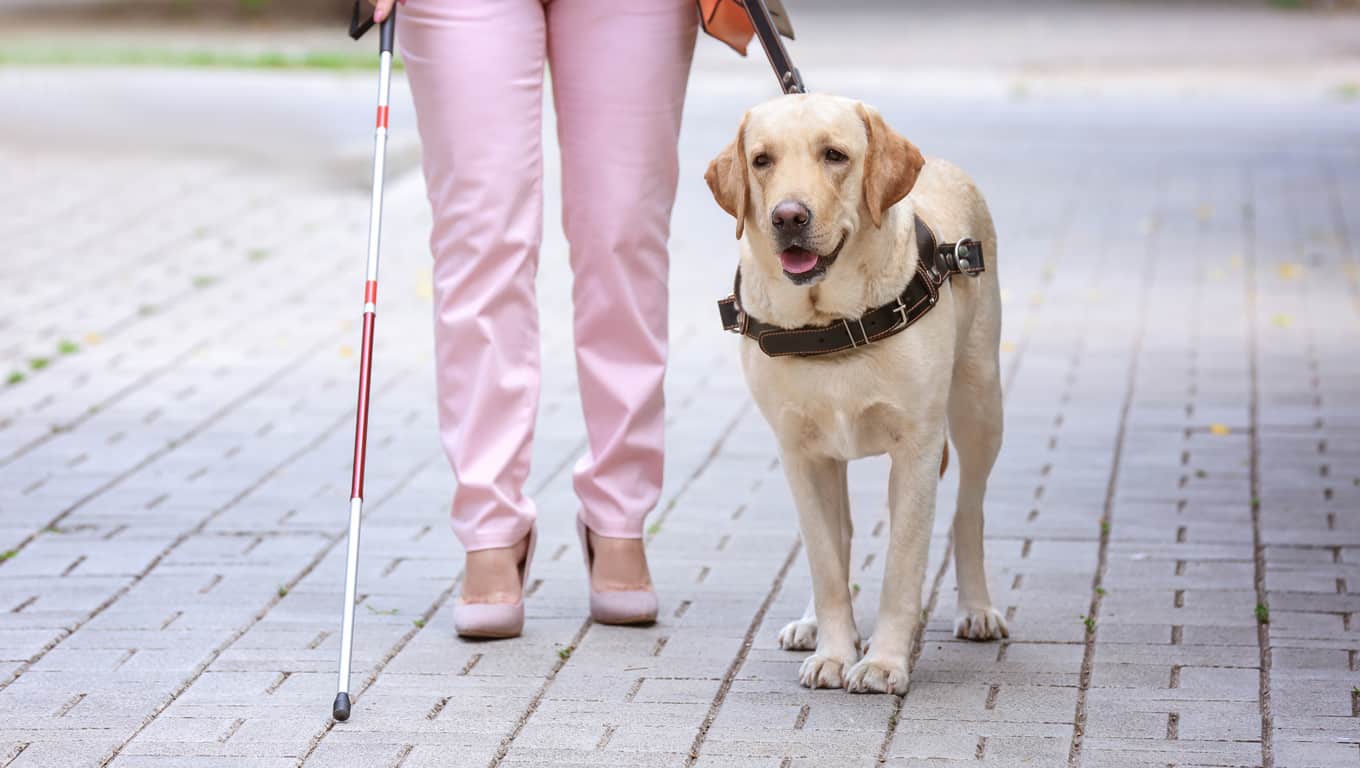 Service Animals
Service Animals
Your service dog is welcome onboard, and we make every effort to ensure your comfort and theirs. Please note we do not accept pets.

A service dog is defined as "any dog that is individually trained to do work or perform tasks for the benefit of a person with a disability."

Our Commitment: Evidence that a dog is a service dog (such as identification cards, other written documentation, presence of harnesses and/or tags) is not required, but is helpful for our staff and crew.

We provide 4 foot by 4 foot relief areas with cypress mulch to accommodate service dogs. Relief areas are provided on a shared basis with other service dogs onboard. For sailings from the U.S., sod can be provided if ordered in advance and is available.

Please notify our Access Department as early as time of booking, but no later than 30 days prior to sailing if a relief area is needed.

Your Responsibility: Service dogs are permitted to accompany their owner in all public areas, including dining venues. While in public areas, service dogs must be on a leash, harness or other restraining device. Due to health regulations, service dogs are not permitted in pools, whirlpools or spas.

Care and supervision of your service dog is your sole responsibility. It is also your responsibility to provide food and care for the dog.

You may bring a reasonable quantity of food and bowls for your dog onboard the ship at no additional charge. If refrigerated space is needed, notify our Access Department as early as time of booking, but no later than 30 days prior to sailing.

Guests are responsible for obtaining all required permits for service dogs to depart the ship in ports of call and at final destination.

A copy of these permits must be carried by the guest on the ship, and a copy left with Guest Relations Desk upon boarding. All documentation and immunization requirements are established by government authorities and not Azamara®. Please note requirements are subject to change without notice.

If you choose to disembark the ship at a port at which your service dog must remain onboard, you must make arrangements to ensure that your dog is cared for. Note that the ship's staff is not required to care for your dog, nor can your dog be left in the stateroom unattended.

Guests are responsible for the behavior of their service dog and any damage the dog may cause. A cleaning fee may be charged to the guest's shipboard account.

If the service dog's behavior creates a fundamental alteration or a direct threat to safety, the dog may be denied boarding or removed from the ship, along with the owner, at the guest's expense. Examples include: growling, barking excessively, initiating unsolicited contact, biting other guests and/or crewmembers, failure to use designated relief areas, sitting on furniture, eating from the table, etc.

If you have an animal that does not meet the definition of a service animal (i.e. a dog trained to perform a task) but must accompany you in order to assist you with your disability, please contact our Access Department at least 60 days prior to sailing.

Assistance Dogs To The United Kingdom: Assistance dogs entering the United Kingdom must meet the rules of the Pet Travel Scheme.

You are responsible for ensuring your assistance dog meets all of the rules of the Pet Travel Scheme. Please make sure you have had the procedures carried out in the correct order and your dog's documentation is correctly completed.

We will do our best to assist you in ensuring your service dog is checked for compliance with the Pet Travel Scheme at boarding. Please note dogs that fail checks will not be allowed to sail.

If you experience a problem with your documentation upon entry into the United Kingdom, any related costs for either the quarantine or re-export of your pet will be entirely your responsibility.

In general, you will need a Pet Passport (for guests from the UK and the EU) or an official third country veterinary certificate (for guests from the US and other countries outside the UK and EU) showing the dog has been microchipped, vaccinated against rabies, and treated against tapeworm not less than 24 hours, and not more than 120 hours, before arrival in the UK (not required if travelling from Ireland, Finland, Malta or Norway).

Pet Passport and Third Country Certificates must be signed, dated, and stamped by an Official Veterinarian; this may be different than your local veterinarian. This usually takes extra time.

Tapeworm treatment should be arranged at the next to last port of call prior to entry to the UK. In case for any reason the scheduled treatment cannot be done at this port, you will have another opportunity to arrange a treatment at the next port of call.
Azamara's Accessible Stateroom
Accessible Ship Features
Our ships have been thoughtfully designed to accommodate all of our guests, including those with mobility, hearing, and visual disabilities.

Information below provides details about availability of accessible facilities onboard, including means of boarding the vessel, rest rooms, staterooms, decks, dining, and recreational facilities as well as any limitations of the ship to accommodate guests with disabilities.

Azamara® will make every effort to accommodate your needs wherever and whenever possible. We can best accommodate the special concerns of our guests with advance notice.

When packing, be sure to include a sufficient supply of all prescription medicines you require.
Staterooms and social areas designed to accommodate all guests.
Staterooms, dining areas and public areas designed to incorporate Braille wherever possible.
Portable hearing room kits, TTY/TDD, and ASL interpreters (upon request for sailings to/from U.S./Canada).
Accommodation for guest medical needs, including oxygen.
A variety of equipment available onboard, such as shower stools, raised toilet seats and commode chairs.
Wheelchair accessible staterooms, activities and services.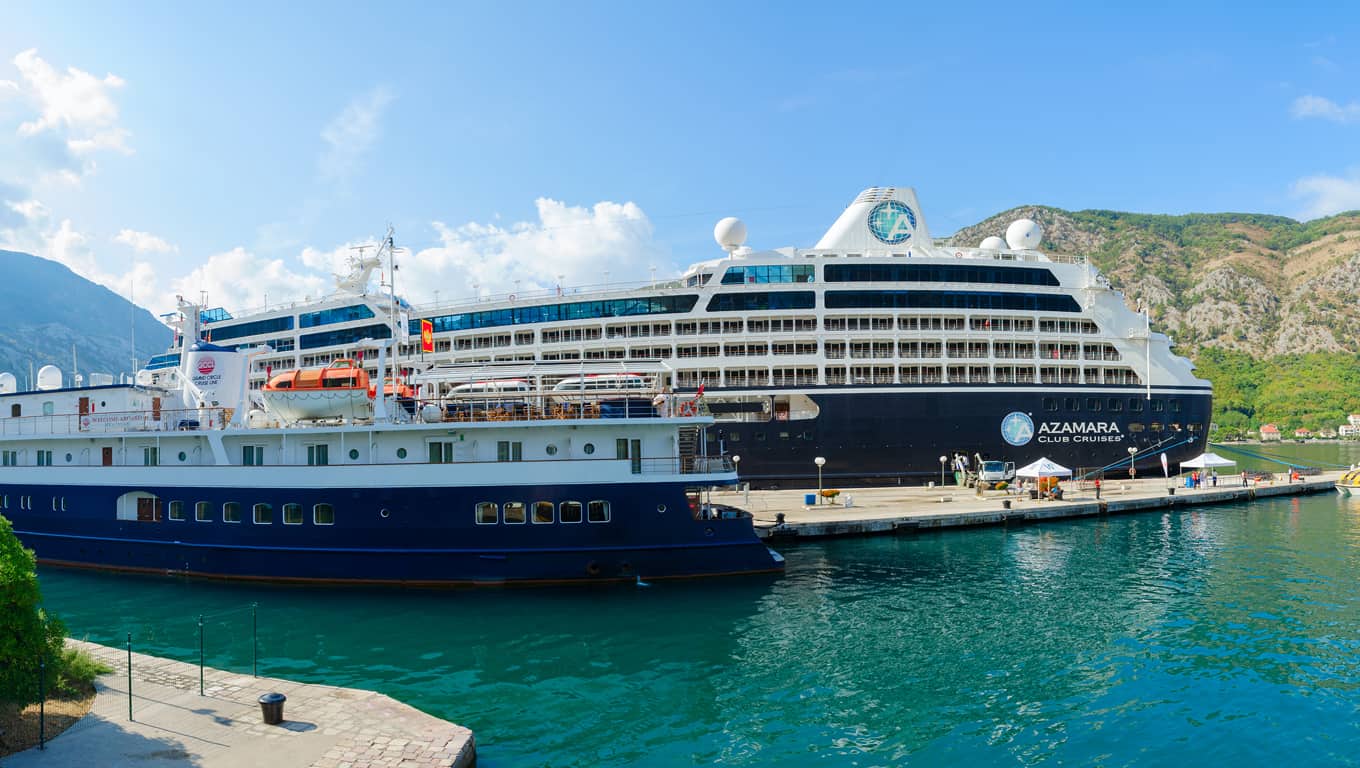 Embarking And Disembarking Azamara Ships
Getting On And Off The Ship
Our accessibility services extend beyond the time you spend on board. We're here to help before you even get to the ship, getting on and off, and getting to shore during your voyage. Just let us know in advance—the more notice we have, the more prepared we'll be when you join us for your immersive cruise.

Airport Transportation: If requested in advance, Azamara® can arrange for accessible transportation to transfer guests between the airport and the pier. This service is offered at no extra charge to our air/sea guests or those who have purchased cruise-only transfers. Accessible airport transportation may be limited or not available outside the U.S.

Extra Assistance At The Pier: We offer boarding and departure assistance with wheelchairs for guests with mobility disabilities. While we ask that you let us know if you need this service in advance of your sailing date, you may request it once you arrive at the pier. During peak times there may be a wait for assistance.

While many ports provide easy access for wheelchairs and scooters, conditions may preclude guests using assistive devices from getting on or off the ship at certain ports. These conditions include: steepness of gangways, tendering, weather, tidal and sea conditions, and shore-side facilities.

We will make every reasonable effort to assist our guests, but for safety reasons, our staff is not permitted to lift guests or equipment. Assistance with manual wheelchairs, walkers, canes, etc. will be provided.

Travelling From Ship To Shore: At some ports, the ship anchors offshore, and guests will be taken to shore by small boats called tenders. Even if the ship is scheduled to dock at a pier, it can change to tendering at any time.

Guests using assistive devices who are unable to take a few steps will not be able to board tenders. In order to safely board most tenders, guests must be able to take steps and use a collapsible manual wheelchair. Additionally, motorized wheelchairs and mobility scooters can not be taken on tenders.

Weather, sea conditions, and other factors may preclude tendering. The safety of our guests and crew is our primary consideration, and the Captain and his staff will make the final decision regarding transferring guests and their assistive devices based on safety reasons.

If guests are unable to tender or disembark because of due to these circumstances, there will be no refund or credit for missed ports. While we recognize your disappointment, the safety of our guests and crew is our primary concern.