Nothing turns an occasion into a celebration, sparks a conversation, or elevates a meal from ordinary to elegant quite like fine wine. That's why AmaWaterways has expertly curated Wine Cruises that add a unique, epicurean dimension to our standard itineraries. Not only do you enjoy sightseeing in grand capitals and charming villages alike, you'll be treated to a special wine-related excursions in some sort of Europe's most renowned wine regions. Wine tastings and exquisite food and wine pairings please the palate while exclusive tours provide insight into the different grape varieties harvested in each distinct region.

Every cruise is hosted by a qualified North American wine expert, who usually brings hand selected wines on board to serve with meals and tastings. Some wines come from the expert's own winery and other varieties are sourced from local wineries located along the cruise itinerary.

Whether you are a wine connoisseur or simply indulge in a sip here and there, these cruises make for an exceptional experience.
AmaWaterways River Cruises
The Luxury Of More
As AmaWaterways has grown over the years, we have continued to focus on finding new ways to give our guests more - more experiences, more space and more choices. Our spirit of always looking at what's next on the horizon is inspired by our President and Owner, Rudi Schreiner. His vision has led to many firsts - AmaWaterways was the first to offer twin-balcony (a French balcony and outside balcony) staterooms, include a specialty restaurants, carry a fleet of bicycles on board and offer a broad selection of tours.

Your river cruise with award-winning AmaWaterways will be a luxurious experience from start to finish. Customize how you explore Europe with a variety of included shore excursion choices. After a day of discovery, it's time to return your floating sanctuary. Instead of using available space to carry more guests, we choose to make your staterooms larger and provide more amenities. This way, you never feel crowded and there's always a way to indulge, relax and rejuvenate.

No matter how you choose to spend your time, onboard or ashore, you will have an unforgettable river cruise with AmaWaterways.

Signature Twin Balconies: Enjoy stunning panoramic views and plenty of fresh air from the privacy of our lavish twin-balcony staterooms that feature both a French balcony and an outside balcony.

Award-Winning Dining: Savor delicious cuisine at a variety of dining venues, including The Chef's Table, where chefs prepare an exquisite tasting menu.

Entertainment: Whether it's traditional music or a local quartet, there is an eclectic schedule of nightly onboard entertainment.

Massage & Hair Services: Pamper yourself with a soothing massage or get your hair styled for a memorable night at our onboard hair salon.

Sun Deck Pool & Swim-Up Bar: Soak up the sun in our sun deck pool complete with swim-up bar and enjoy a chance to mingle with fellow guests.

Wellness Travel: Our approach to wellness includes walking tours, morning jogs, guided bike and hiking tours, a fitness room, and a selection of healthy food choices.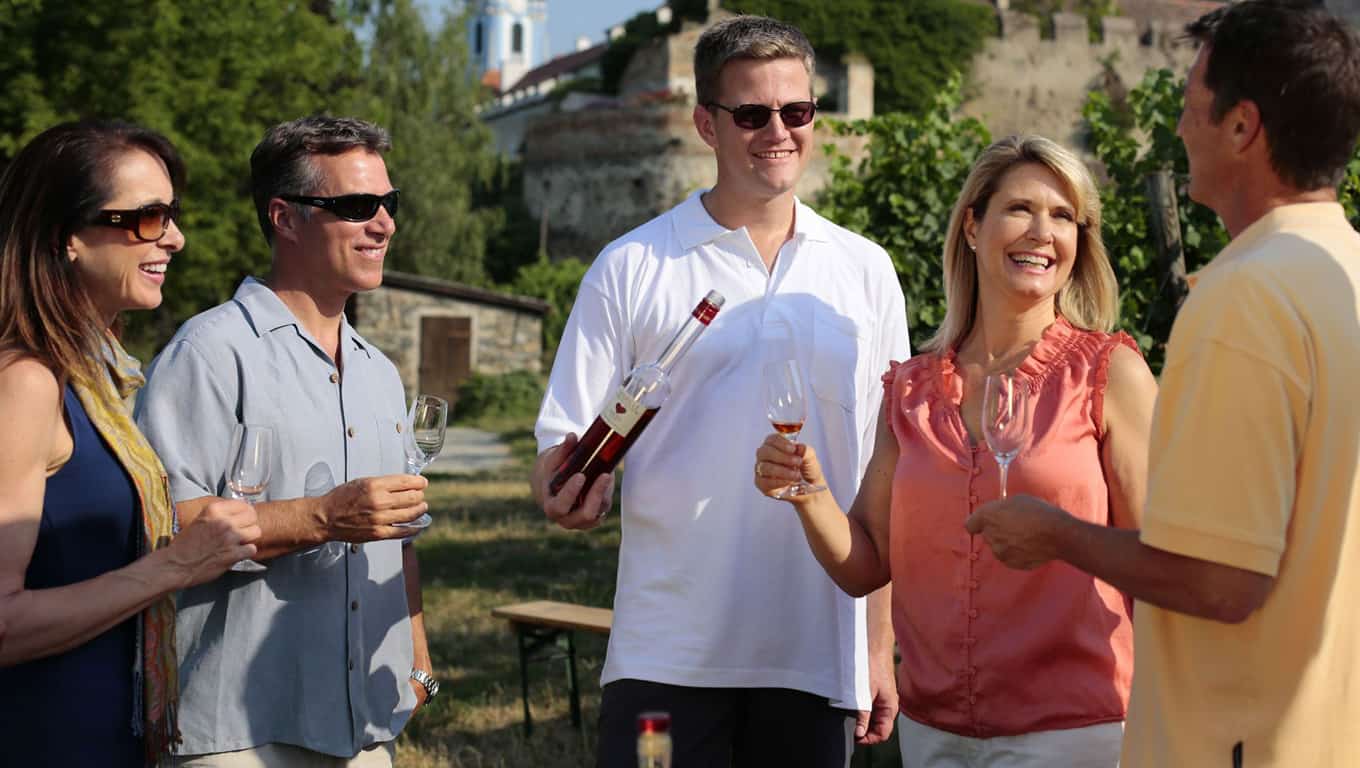 AmaWaterways Wine Cruises
Expertly Curated Wine Cruises
An AmaWaterways Wine Cruise is artfully designed to provide travellers with immersive experiences related to the regions they are visiting. From the breathtaking views of premier vineyards, to perfectly paired tastings and fascinating wine discussions, these authentic encounters add to the rich tapestry of local culture.
A Palate-Pleasing Journey
One of the most rewarding aspects of traveling in indulging in the local flavors of new destinations. Our Executive Chef, Primus Perchtold, winner of three gold medals at the European Championship of Culinary Art, along with his team of expert chefs, craft locally-inspired menus using the freshest ingredients. Menu selections change daily, and with every lunch and dinner, you'll enjoy unlimited regional wines along with beer and soft drinks. AmaWaterways and President Rudi Schreiner were inducted into La Chaîne des Rôtisseurs, a prestigious gastronomic society. Membership is extended by invitation only to those possessing world-class culinary acumen. Simply stated, our onboard dining is truly outstanding.

The Chef's Table specialty restaurant, a dining alternative to the Main Restaurant, offers a unique culinary experience at no additional charge. Join fellow guests at this intimate venue where the kitchen becomes part of the entertainment. Watch as your chef prepares a tasting menu with three appetizers, a sorbet intermezzo, three main courses and three decadent desserts - all paired with hand-selected wines.
Your Own Personal Wine Host
On an AmaWaterways Wine Cruise, you'll be joined by one of our expert wine hosts - knowledgeable winery owners and winemakers from renowned North American wineries, along with wine instructors and certified sommeliers. Always insightful and entertaining, our wine hosts lead you through tastings and accompany you to local wineries and vineyards where you'll learn first-hand from regional European experts the nuances of Old World traditional wine-making methods.

On board, your wine hosts will recommend food and wine pairings, lead discussions and hold tastings. Have fun learning how to make tantalize your senses at a special food and wine pairing dinner, and take home a few insiders' tips to share at your next gathering.

Renowned Wine Regions: Explore vineyard-dotted landscapes like Austria's Wachau Valley, France's iconic Bordeaux area or Portugal's Douro Valley.

Premier Local Vineyard: Stroll through stunning European vineyards on a warm summer day or take in the vivid shades of amber during the fall grape harvest.

"Insider's View" With The Experts: Qualified North American wine experts bring along premium, hand-selected wines to be served during meals, tastings and discussions.

Unique Wine Tastings: Indulge in tastings on the ship and during excursions at historic wine cellars and stunning vineyards.

Insightful Wine Discussions: Expert wine hosts lead information talks on Europe's rich wine-making culture, heritage and traditions.

Authentic Food & Wine Pairings: Take in the local traditions and savor authentic cuisine as you enjoy the region's food and drinks.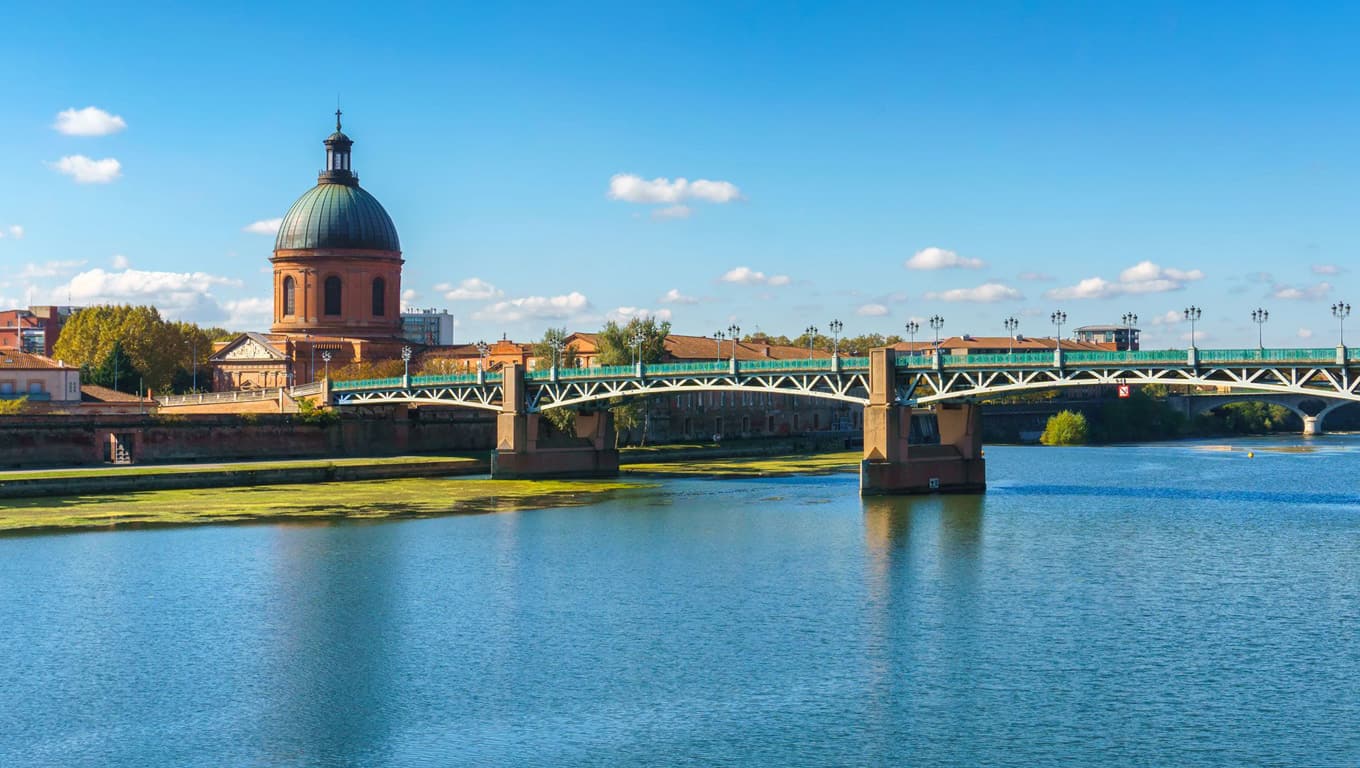 The Garonne River
The Garonne, Dordogne And Gironde Estuary
In the corner of South Western France, the Garonne and Dordogne rivers merge together to form the Gironde Estuary that naturally divides the famous Bordeaux region into the Left and Right banks. One of the largest controlled wine regions in France, Bordeaux is made up of several sub-regions each with its own strictly governed appellation, unique climate and terroir. Unlike most wines around the world, the quality of Bordeaux wine is determined by these factors rather than the grape varietal. Bordeaux is acclaimed for its legendary red blends, through white bends from this region also make a big impression. The Left and Right banks of the river have different soil types that bring these exceptional blends to life.
Tasting Notes
The Left Bank - Sauternes And Medoc: The flatter, gravelly lands of the Left Bank embrace the heat of the sun south of the Gironde, giving life to man rich red and sweet white blends like those of the Médoc and Sauternes regions.

The Right Bank - Saint-Emilion: The limestone and clay soils of the Right Bank are perfect for Merlot, the most popular grape used as a base for blends in Bordeaux. Prestigious appellations like Borg and Sante-Émilion produce some of the best Merlot based blends that are combined with Cabernet, and other grapes.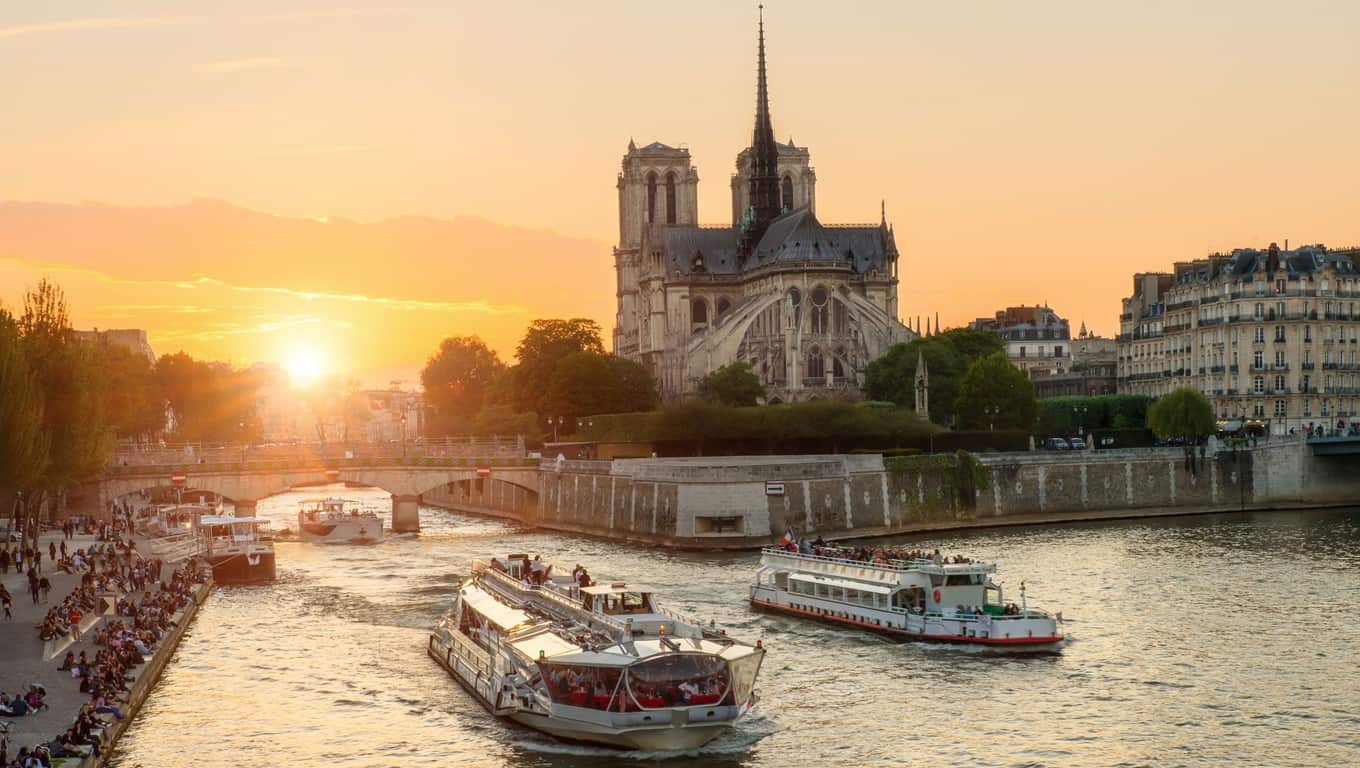 The Seine River
The Seine River
The curvy nature of the Seine River can be disorienting when you're in Paris. Not to worry, just remember to face downstream, so you can tell the Left Bank from the Right. Our Paris & Normandy cruise itinerary is about as romantic as it gets, beginning with views of the art-inspiring "City of Light" that morphs into lush countryside and the historic Normandy Beaches. France's second largest waterway allows us to sample some of the country's most renowned champagne, ciders and Calvados.

The wine variety that instantly characterizes northern France comes from the Champagne region, about 90 miles each of Paris. These sparkling varieties produce a sweet effervescence and unparalleled quality that merit exclusive classification as the one-and-only wine known as Champagne. Another specialty drink found closer to the English Channel is Calvados, which comes from Normandy's fruit-filled orchards. Made from over 170 apple (and pear) varieties, this rustic spirit is distilled twice and barrel-aged for at least two years before bottling. The result is a liqueur bursting with mainly complex flavors.
Tasting Notes
Dom Pérignon - A Benedictine Monk & Champagne: Contrary to popular myth, the Benedictine monk, Dom Pérignon, did not invent the "champagne method" for making sparkling wine. A cellar master at the Abbey in Hautvillers in northeastern France, Dom Pérignon was the first to blend grapes in such a way as to improve the quality of wines. His legacy endures in the form of a prestigious Champagne from Moët & Chandon, which bears his name.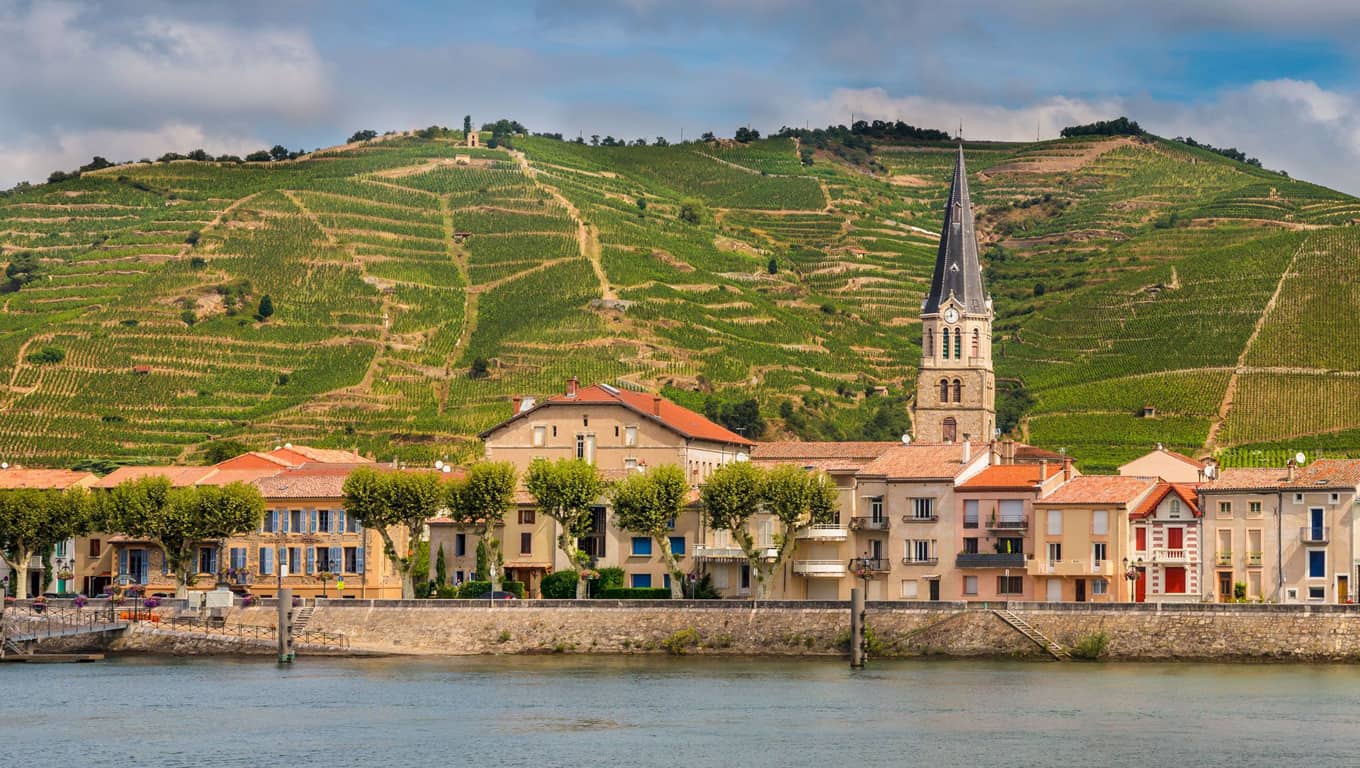 The Rhône River
The Rhône River
Besides providing captivating views of medieval towns and colorful landscapes, the Rhône River connects the dots between thousands of vineyards from Lyon to Avignon. Our Colors of Provence itinerary takes you through this prized wine-producing region in southeastern France, known across the globe as the Rhône Valley. You'll also get to savor some delightful wines from the Beaujolais region just to the north, where the Rhône meets the Saône. The valley traces the path of the river for almost 150 miles, hypnotizing travellers with grape-covered wines gripping its steep sides. Since it's so large, the climate varies greatly from north to south as does the soil and wine quality. Thus, the Rhône is divided at the town of Valence into two worlds of wine: the Northern Rhône and the Southern Rhône.
Tasting Notes
The Northern Rhône: What the Northern Rhône lacks in terms of size, it makes up for with prestige. Its continental climate and granite soils fuel the exceptional quality achieved by the noble vines in this region. Syrah grapes, like those used in the famous Hermitage wines, are so impressive that it's the only red grape variety allowed to be grown here. These full-bodied, rich, tannic wines can evolve for decades, enhancing their delicate notes.

The Southern Rhône: A warmer climate is enjoyed in the Southern Rhône with hot summers and mild winters. The larger sub-region is responsible for nearly 95% of the entire region's wine, including a wide range of everyday whites, rosés and Grenache-based red blends from the Côtes du Rhône appellation. The south also creates a variety of powerful, high-quality red and whites in areas like Châteauneuf-du-Pape.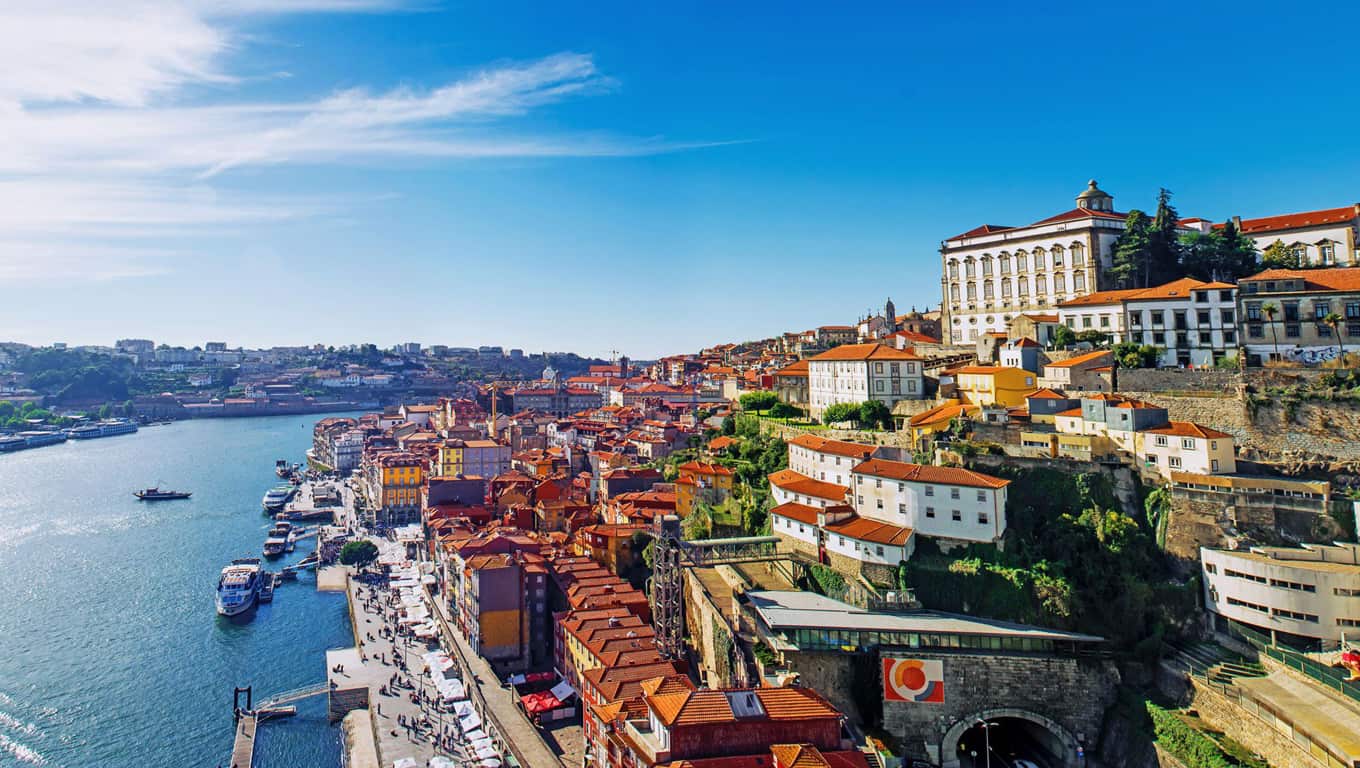 The Douro River
The Douro River
Land near a river, and naturally protected by mountain ranges, inspired winemakers to plant vineyards along the Douro, but wild landscapes and nutrient-poor soil made this an extremely difficult task. The birthplace of Port wine would simply not exist today if it hadn't been for the centuries of determined winegrowers who laboriously carved rows of vines into the steep, dramatic terrain. Angled, rocky terrain just so happens to be ideal for the growth of grapes. Over the years, the magnitude of Portugal's Douro Valley wine region has grown remarkably and it is now divided into three parts. Our Enticing Douro itinerary cruises through all three sub-regions.
Tasting Notes
Baixo Corgo: Baixo Corgo lies closest to the Atlantic and has more than 33,000 acres of vineyards, yielding the largest cultivation of grape vines. The vineyards threaded through these extreme slopes give life to rich, tawny Ports, red and white table wines and sparkling Vinho Verde, which translates as "young wine."

Cima Corgo: Cina Corgo is home to a drier climate and proves to be the most fruitful region. The 50,000 acres of vineyards that cling to the Douro's heartland produce remarkable, long-lasting table wines and Ports like those of the Vintage variety in Pinhâo.

Douro Superior: Douro Superior is the easternmost sub-region and has the driest conditions, slate-like soil and continental climate that gives life to some of the finest, most impressive Vintage Ports in all of Portugal.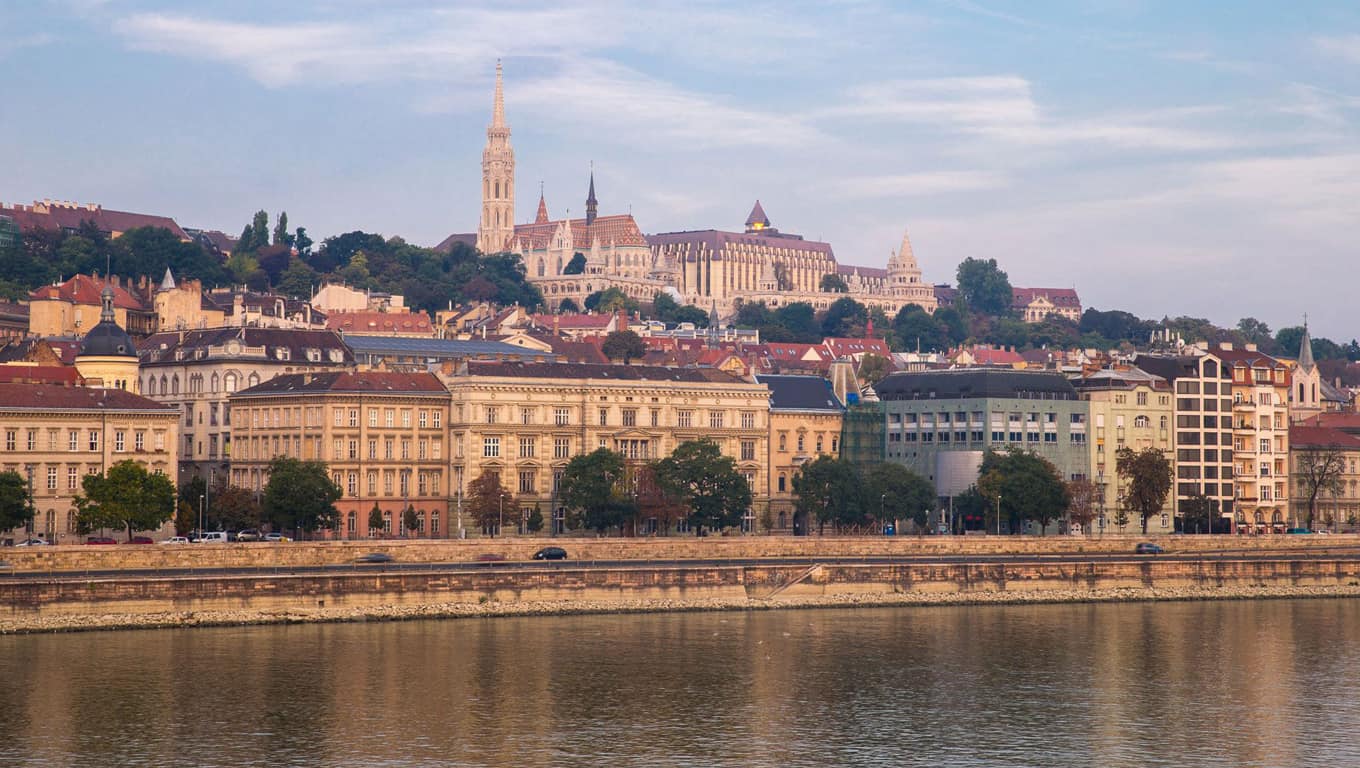 The Danube River
The Danube
Brilliant architectural masterpieces and vine-strung hillsides on the Danube River has inspired artistic creations for hundreds of years. The Romantic Danube and Melodies of the Danube itineraries journey through Germany, Austria, Slovakia and Hungary, so you can experience some of the most celebrated wines and sights in Europe's heartland.

Over 3,700 acres of terraced vineyards rise from Austria's illustrious Wachau Valley. Located between the towns of Melk and Krems, this cooler-climate wine region brings a wide variety of refreshing, peppery white-grape wines to fruition. Grüner Veltliner is considered to be the most important grape in Austria. Grown in loess soils by the river's edge, these favored wines offer aromatic stone fruit flavors reminiscent of the terroir. Riesling, the second most popular grape, loves rocky inclines, so it is extensively sewn into the rich hillside. Fruity notes and floral scents from these unique whites.
Tasting Notes
The Wachau Valley - Grapes & Apricots: The terroir and grape varieties of the Wachau Valley truly define the essence of its wine. So much so that the wines even utilize their own classification systems, designed only for the Wachau. Of course, grapes aren't the only fruit that grows here - as the region is equally famous for its apricots, which even have received EU protection since 1966. Each spring, roughly 100,000 apricot trees begin to bloom, adding to the landscape's aesthetic beauty. Everything from apricot jams and strudels, to apricot dumplings, to marmalades, schnapps and brandies are yours to savor.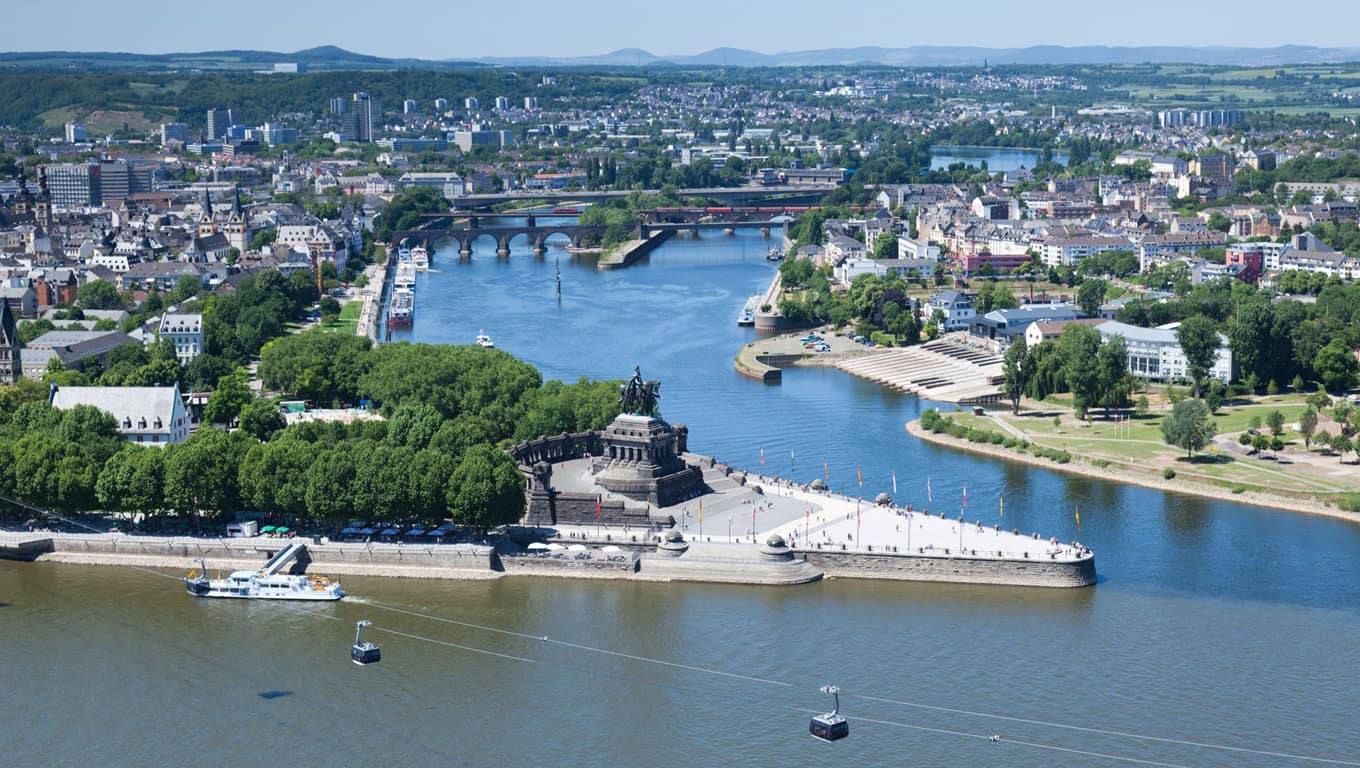 The Rhine River
The Rhine, Moselle And Main Rivers
The Rhine along with its main tributaries - the Moselle and Main - have created a wine connoisseur's paradise, which can be discovered on our Europe's Rivers & Castles. Enchanting Rhine, Captivating Rhine and Rhine & Moselle Splendors itineraries.

The Upper Middle Rhine's slate soil combined with a semi-continental climate have proven to be a recipe for wine-growing success for the Rheingau vineyards, yielding high-quality white wine varieties, and some fine reds. Germany's Moselle River Valley yields some of the finest white wines ever produced due to its blue Devonian slate and quartzite soils. Alongside the Main River in eastern Germany, a wide variety of wines have been surfing from Franconia due to its special soils and Mediterranean-like climate.
Tasting Notes
The Alsace - A Hidden Treasure: France's Alsace region has been blessed with desirable conditions: ancient soils, noble grapes and an extraordinary climate. This region produce noteworthy dry Rieslings as well as highly aromatic Gewürztraminers wines and Crémany d'Alsace.

The Moselle - Germany's Oldest Wine Growing Region: In Germany where Riesling reigns supreme, the sheer quality of the terroir and climate found along the Moselle is perfect for Riesling grapes. Many connoisseurs consider these wines to be amongst the finest white wines ever created.